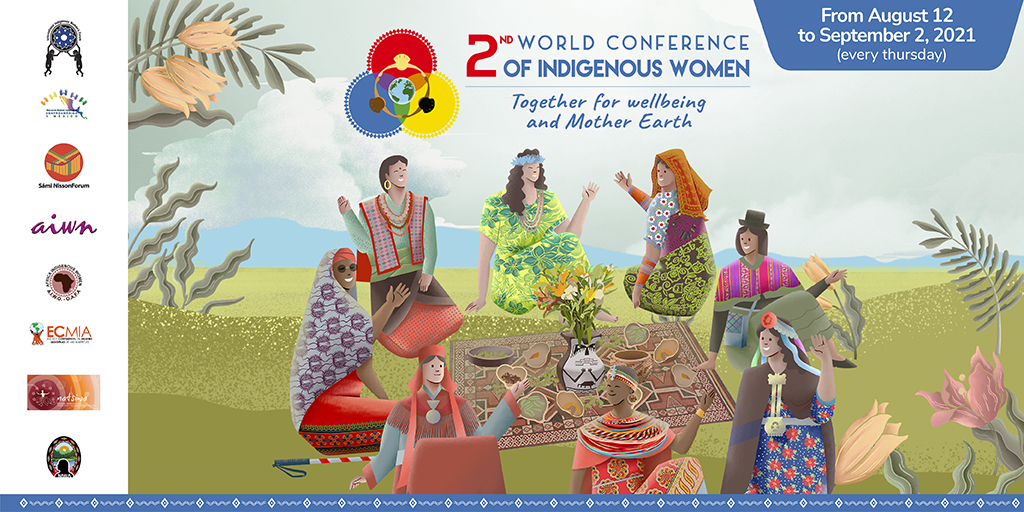 Over 200 Indigenous leaders from around the globe met at the 2013 World Conference of Indigenous Women in Lima, Peru. We brought together organisations from the seven sociocultural regions around the globe and agreed on a Political Position Document and Plan of Action, in order to undertake political action with the same criteria to confront common problems, as well as to learn from one another.
We, as Indigenous Women, are active defenders of the individual and collective rights of our people. We are often confronted with social and environmental damage due to the denial and violation of our human rights, as well as a national lack of application and responsibility. Therefore, as Indigenous Women, our Political Position and Plan of Action agreed at the World Conference in Lima, Peru, urged states to implement the rights enshrined in the UN Declaration on the Rights of Indigenous Peoples and in other international human rights instruments, as well as to respect our customary Indigenous law.
This was reaffirmed by the leader of the Kankanaey Igorot people of the Philippines, Victoria Tauli Corpuz, who would be appointed a United Nations Special Rapporteur the following year. Corpuz would hold this post until 2020 and use it to defend the rights of Indigenous Peoples. At the time, she stated: 'Our message to governments, to the UN and to corporations is that they should work with us and not against us, because we have answers to the environmental, social, economic and cultural crises that the world faces today.'
Raffaella Bulyaar, head of the women's empowerment programme at Kivulini Trust, a pastoral peoples organisation in Kenya, stated that instruments such as the UN Declarations were improving the life of women in northern Kenya, although they still face huge challenges.
At the 2013 Conference, Indigenous Women exchanged experiences about 'megaprojects' or mining projects on Indigenous lands and territories. Forest and farming initiatives are displacing communities from forests in Rwanda and Cameroon, whilst mining projects in the Pacific, Arctic and Americas continue to impact many Indigenous communities. Hydroelectric dams, sold as 'development projects', displace Indigenous communities without seeking or obtaining their free, prior and informed consent. The nuclear plant in the Hopi nation in the United States has had major incidents and local homes are contaminated by radiation.
Food Sovereignty was another main topic on the 2013 agenda, in order for us to be free of the food production chain exploiting Mother Earth, imposed by the neo-liberal capitalist economy that commodifies our way of life. For Andrea Carmen, an indigenous Yaqui and Executive Director of the International Indian Treaty Council, food sovereignty is a key concept for Indigenous Peoples in order to ensure their right to control how their lands and territories are used.
Governments and corporations around the globe seize Indigenous Peoples' land without their consent, introduce genetically modified seeds to replace highly adapted heirloom seeds and force dependence on a globalised food economy. Carmen underlined that 'Indigenous Peoples are uniquely situated to offer solutions. Armed with ancient traditional knowledge and a deep connection to their lands, Indigenous communities, and particularly Indigenous Women, are developing projects and building networks to revitalise local food capacity and strengthen food sovereignty'.
In turn, Clemencia Herrera from the Colombian Amazon stated that 'food sovereignty is knowing the species we have on our lands, knowing what kind of seeds to plant in each territory to guarantee food with native non-GMO products and avoid pesticide contamination of the land and water'. To achieve this, Hilaria Cruz, Guarani (Paraguay), proposed establishing agroecology schools to train Indigenous Youth in order to maintain food sovereignty.
Other priority topics discussed included: climate change, the violence suffered by Indigenous Women, cultural and identity preservation, the challenges faced by Indigenous Youth and intercultural communication. You can view the Special reports from our colleagues at Cultural Survival by clicking on the link.
The hosts of the World Conference of Indigenous Women were: Indigenous Peoples; the Government of Peru; CHIRAPAQ; the Centre for Indigenous Cultures in Peru; the International Indigenous Women's Forum; the Continental Network of Indigenous Women of the Americas; Asia Indigenous Peoples' Pact; African Indigenous Women's Organisation; Alliance of Indigenous Women of Central America and Mexico; Asia Indigenous Women's Network; Indigenous Women's Human Rights Council of the Pacific Region, and the Indigenous Information Network. They all came together to create an advocacy roadmap for individual and collective rights that framed their local, national and international activities over the coming years.
The Second World Conference of Indigenous Women is set to take place online on 12th, 19th and 26th August, and culminating on 2nd September. More information here: https://worldconferenceiw.org/en/