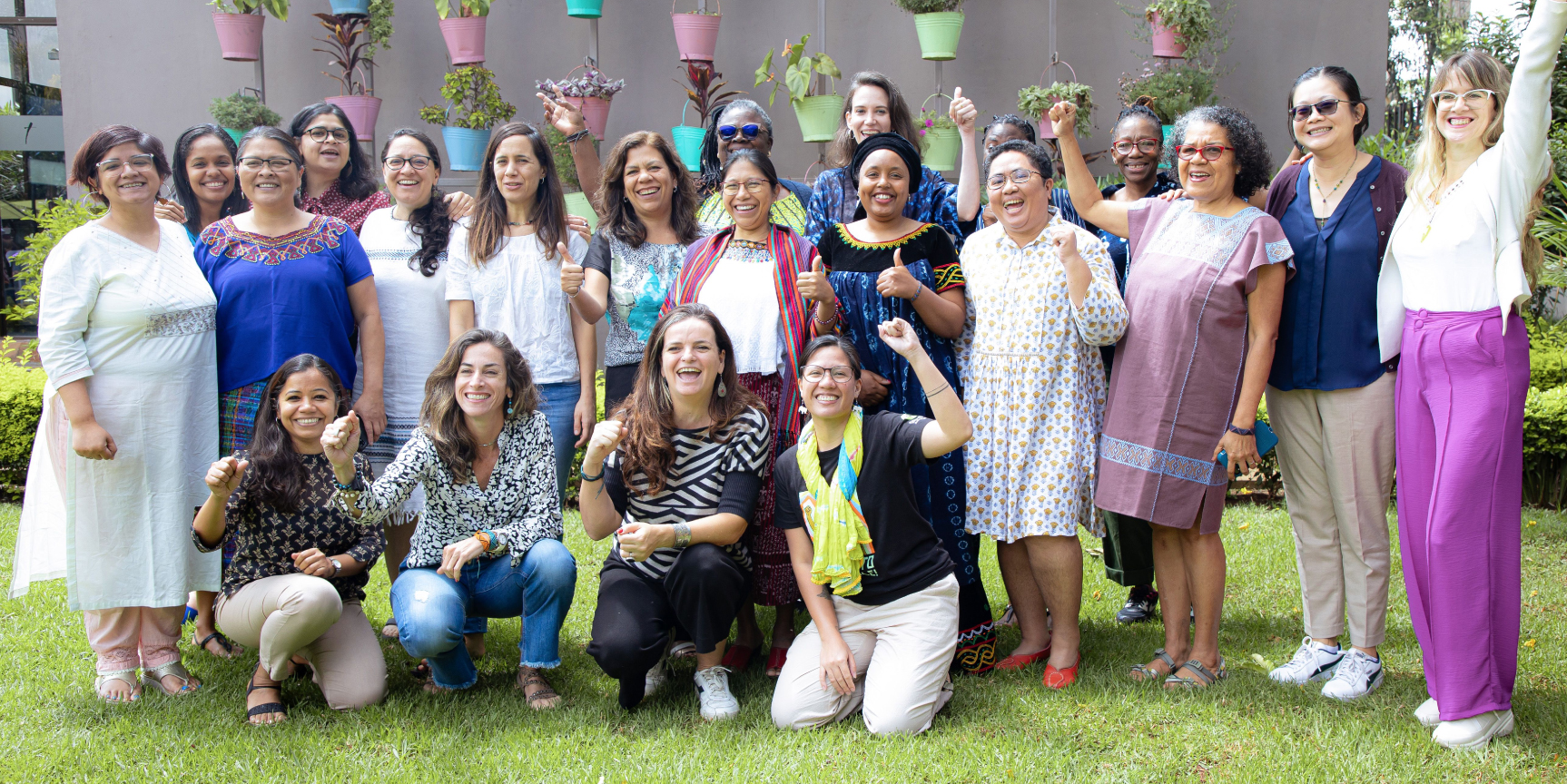 Leading from the South, together we sow change.
The Leading from the South Consortium (LFS) is an ever-growing alliance that supports feminist activism of organizations, movements, and networks led by women, girls, and trans individuals at the regional, national, and grassroots levels in the Global South. In September of last year, FIMI had the honor of hosting the annual consortium meeting in Nairobi, Kenya, which was attended by members of the Asian Women's Fund, the Southern Women's Fund, the African Women's Fund, and the International Indigenous Women's Forum.
Over the course of three days, we collaborated on a joint agenda in which we reinforced our alliance through collective actions, shared experiences, progress, and challenges in the implementation of the second phase of Leading from the South (LFS II). We also reflected on joint actions, donor relationships, and allies, both at the individual and collective levels. During this meeting, we shared our results, strategies, and current agendas, identifying synergies and learning from one another.
Furthermore, we analyzed strategies and recommendations for collective actions that would more effectively support the promotion of women's voices in resource mobilization and their political participation in key spaces.
Stories of Collective Action in Kenya
Last month, a delegation from FIMI's working group visited the Paran Women Group and Naretoi Saparingo Women Group Center, guided by our Vice President, Lucy Mulenky. The purpose of this visit was to share and learn from their organizational experiences in addressing the climate crisis and combating the violence they face. We had the privilege of meeting with women who refuse to succumb to resignation, as they are the primary caretakers of our environment, natural resources, and the livelihoods of communities living in harmony with Mother Earth.
The Paran Women Group is a legally registered Indigenous Women's community organization founded in July 2005. Paran is located in Ololunga, the southern sub-county of Narok in Narok County, Kenya. The Paran Women Group consists of 305 members. Through their collective efforts, they have brought water back to the region by reforesting the land. They have improved their nutrition through backyard gardening and the revival of native foods. They also prioritize their health through the use of medicinal plants from the region, guided by the knowledge of healing sisters. Additionally, they promote their economic empowerment by crafting beadwork, maintaining a savings cooperative, producing honey, and making clay stoves and charcoal. Their center has provided training to over 900 women in the region.
The women of the Naretoi Saparingo Women Group Center reside with their families in the Masai Mara National Reserve, a protected savannah area in southwestern Kenya along the border with Tanzania. They face various challenges, including female genital mutilation (FGM), impoverishment, and a lack of access to public services. They have organized themselves by establishing a knowledge exchange and visitor reception center. In this space, they have backyard gardens to improve their nutrition, access to solar power, and seven houses constructed using traditional mud building techniques. They are also actively involved in reforesting the forest, which serves as a refuge for wildlife such as elephants, giraffes, lions, hyenas, monkeys, zebras, and more. Within this center, they conduct training sessions to combat violence and address challenges like FGM, poverty, and the lack of access to public services.
Last but certainly not least, we visited the office of the African Indigenous Women's Organization (AIWO), with whom FIMI collaborates closely in the task of identifying and supporting Indigenous Women in Africa. AIWO is a non-governmental organization with continental reach, composed of African Indigenous Women representing NGOs, community organizations, and other grassroots entities. Its mission is to promote the rights of Indigenous Women and Peoples in Africa, working towards their social, economic, and political empowerment in the region.
AIWO was founded on April 24, 1998, in Agadir, Morocco, in the context of the first African Indigenous Conference held from April 20 to April 24 of the same year. Since then, AIWO has played a pivotal role in advocating for the rights and well-being of Indigenous communities in Africa.