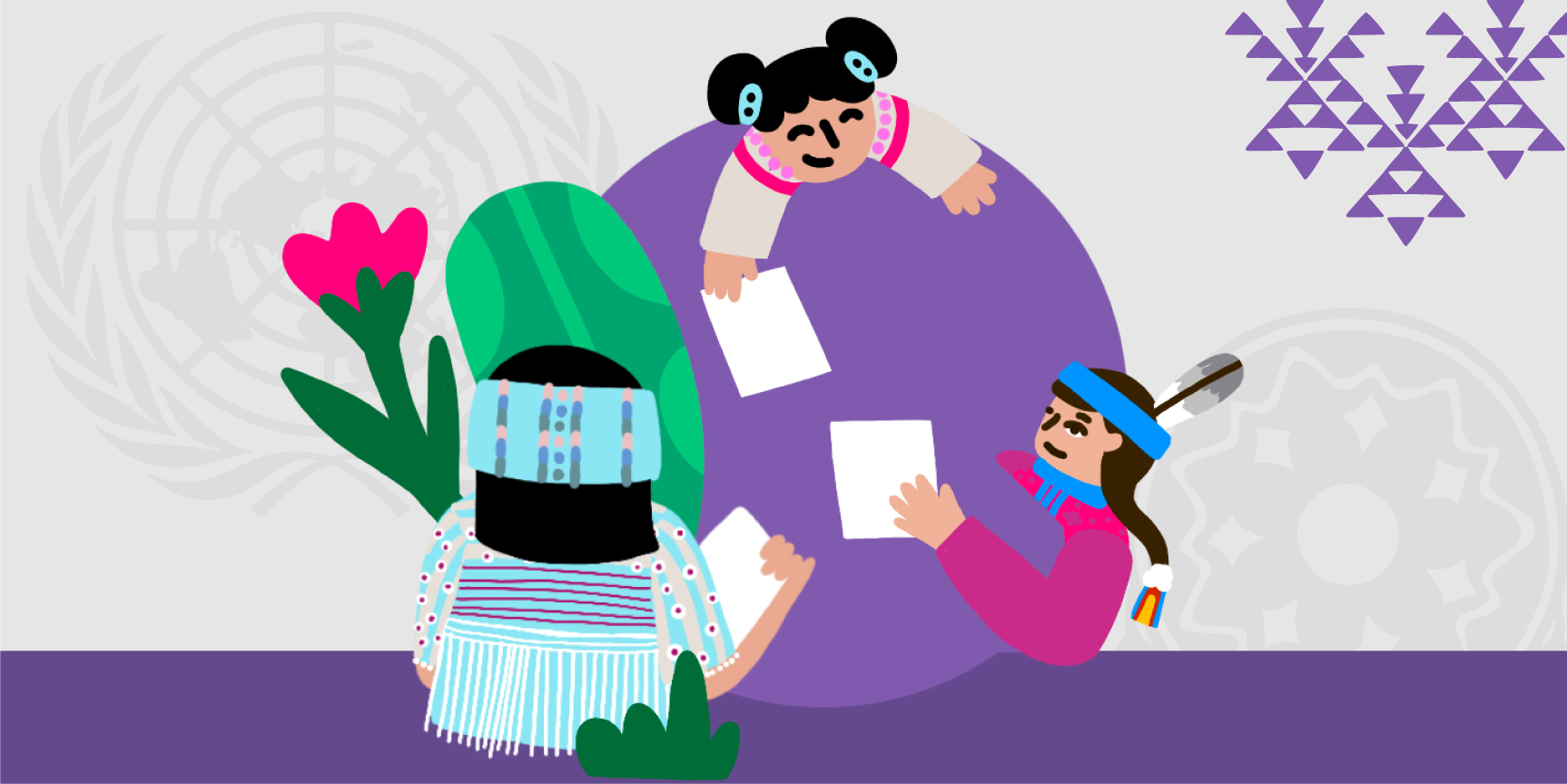 August 24, 2023 – Because of the urgent need of highlighting the importance of the priorities, demands and proposals of Indigenous Women across the world, of strengthening the alliance between Indigenous Women and UN Women, and of launching a profound discussion on the distribution of the resources granted to human rights organizations, a virtual meeting was organized between leaders and partners of the International of Indigenous Women's Forum (FIMI) and representatives of the United Nations Trust Fund to End Violence against Women.
The UN Trust Fund to End Violence against Women provides grants to initiatives that demonstrate that violence can be addressed, reduced and, with perseverance, systematically eradicated. Since it was created in 1996, the Fund has supported 646 initiatives across 140 countries and territories for a total value of 215 million dollars. In 2022, it worked with 186 civil society organizations for the prevention and elimination of violence in 70 countries and territories spread over five regions, supporting them with grants totalling $87.8 million. Most of these organizations (62.4%) work to defend women's rights.
This crucial UN initiative is further strengthened by the recent adoption of CEDAW's General Recommendation 39(RG39), which protects the individual and collective rights of Indigenous Girls and Women. The meeting was organized as a follow-up event to address the issues that arose from our recent Strategic Dialogue on RG39, which took place during the 67th session of the Commission on the Status of Women (CSW67) in New York.
The meeting, held virtually to bring together Indigenous Women from Africa, Asia, the Americas, the Arctic and the Pacific, was introduced by our sister Teresa Zapeta Mendoza, Maya K'iche woman from Guatemala and Executive Director of FIMI, who celebrated the adoption of the RG39, which "will allow us to get together and continue building a more egalitarian future, a more humane future for the Indigenous Women of the world who are fighting to transform our realities".
Teresa Zapeta explained that, due to the structural inequality that affects Indigenous Women, namely with the issues of illiteracy, limited access to technology and the Internet, variable mastery of official languages, and a lack of technical and financial resources, the opportunities for receiving support from the Trust Fund are drastically reduced. "The agenda of Indigenous Women includes gaining access to resources in order to fulfill our rights and to continue influencing international and local governments, so that all women can participate under the same conditions," she explained.
The dialogue was moderated by Beatrice Duncan, Advisor for Constitutional Policy and Access to Justice, and key contact at UN Women for indigenous issues.
In her presentation, Abigail Erikson, Director of the UN Trust Fund, recognized the role that Indigenous Women have in finding solutions based on our ancestral knowledge, and reaffirmed the Fund's commitment to adequately and sustainably finance local organizations focused on the defence of women's rights.
Erikson highlighted that one of the biggest challenges for this division of UN Women is that the requests they receive exceed the available funds. "We have to ensure that resources are distributed equitably among aspiring organizations. When we launched our last call, we received more than 1,500 applications. Despite this limitation, we would like to increase the delivery of funds to grassroots organizations that are working on the community front lines, but we can only finance those that are legally registered."
During the dialogue with the participating women, Bidya Shrestha Maharjan, territorial defender of Kathmandu, talked about the difficulty of achieving legal registration for Indigenous Women's organizations in Nepal. "We have been working for 10 years to prevent the forced displacement of the Newar people from their ancestral territories. However, no indigenous organization can be legally registered in my country, and this puts us in a position of tremendous disadvantage. We are agents of change, we carry out actions at different levels, and we need access to those funds to gain more confidence and fully develop our capabilities."
Alma López, Maya K'iche woman from Guatemala, insisted on the importance of significant collaboration and participation among Indigenous Women's organizations for grassroots organizations or collectives to take part in the decision-making, program design, and resource allocation processes, so that more women may join in on the construction of the relevant UN initiatives and platforms. "We are here at this meeting because FIMI called us. We need more strategic allies that give relevance to our actions, so that these existing funds may reach the base," she insisted.
Maimuna Umaro, coordinator of Sura-Mama, in Cameroon, explained that Indigenous Women's organizations in Africa need to have the appropriate information and tools to be able to develop the skills necessary to carry out political advocacy. "We need to strengthen our political leadership capacities, while at the same time reinforcing our administrative, technological, planning and resource mobilization skills. That is a challenge that the Trust Fund should consider if it wants to include the women of the world in all their diversities, strengths, and weaknesses," she emphasized.
"These concerns that you have mentioned are also our concerns," said Abigail Erikson, Director of the UN Trust Fund. "We have listened to our partners, and all the concerns that you brought forward today confirm what we know. These problems around language barriers, registration, the organizations' legal status, the development of the technical or technological capacities and skills of grassroots organizations, they are all challenges to overcome, and at the Fund we have been working to overcome them. However, there is still much to be done and improved," she acknowledged.
Saoudata Aboubacrine, Secretary General of Tin Hinane, claimed that Indigenous Women in the Sahel region face several bureaucratic and administrative limitations that prevent them from submitting the necessary reports to access the Fund. "Would it be possible to finance projects for us to develop, together with the UN Trust Fund, calls for proposals that are more accessible to women in Africa?" she asked. "We need to simplify the application processes, because on top of everything, our lack of connectivity makes it impossible for us to apply to this and other types of social programs."
Finally, Abigail Erikson stated that "the Trust Fund will continue to listen to everyone's feedback to help determine how to make our system work more simply so that financing can be accessed more easily. My suggestion is that, with the help of FIMI, we organize a work session to present how to request support from the UN Trust Fund, and to make sure that the recommendations or solutions to solve the issues can be applied in their organizations and communities."